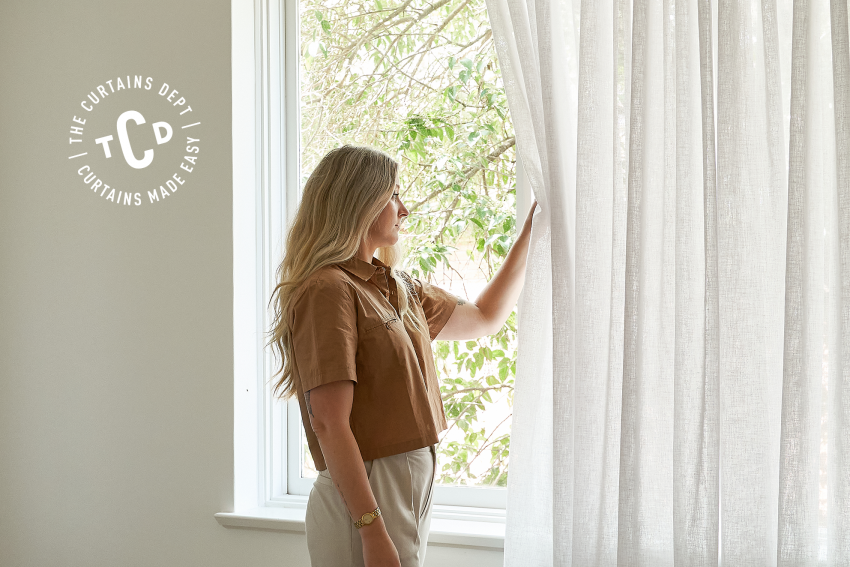 Introducing The Curtains Dept
It's everything you know and love about The Shutters Dept - but now we're doing it with curtains!. 
The Curtains Dept offers contemporary DIY curtains. Designed by you, made locally by us.
Curtains Made Easy In 3 Steps - order free samples, measure + customise and a DIY install!
We can't wait to hang with you!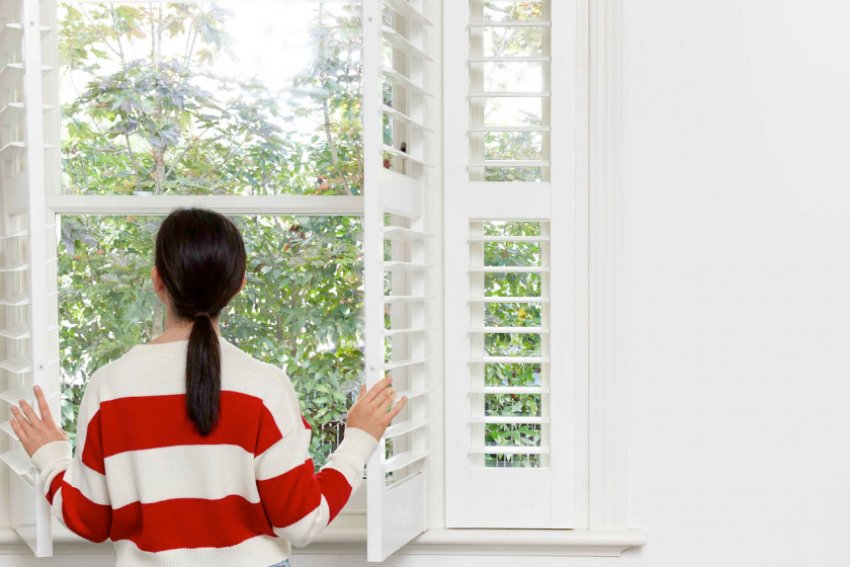 Amazing Price
Direct From Manufacturer
No experience necessary! Our free online quotes, simple design process, and expert tips and recommendations take the worries out of ordering plantation shutters online. 
3 shades of white colours to suit popular Dulux, Wattyl, Haymes whites. Perfect for any home!
10 year warranty, Australia Wide Delivery, No hidden costs and Simple DIY Install
Zipmoney now available! Own Now, Pay Later up to $5K Limit with 0% Interest.
Design Assistance
Ready for a design session? We can help!
1
Let's Chat
Book a phone or video call
2
Your Space
Tell us about your space, windows and design ideas
3
Design Tips
We'll help you get the best results for your windows. Ready for you to start designing!
The Shutters Dept.
Overseas or Local Manufacturer
Aluminium core
Our shutters are made from PVC, a durable material that won't experience fading or cracking, as an aluminium core reinforces each shutter blade.
Moisture resistant
PVC shutters are resistant to moisture and humidity, and therefore ideal for bathrooms and kitchens, or areas prone to getting wet and experience moisture.
Clearview
Our shutters use clearview functionality, which allows the blades to rotate using a hidden tilt rod, so that opening the blades gives a clear 180° unobstructed view.
Highest Quality, Superb Materials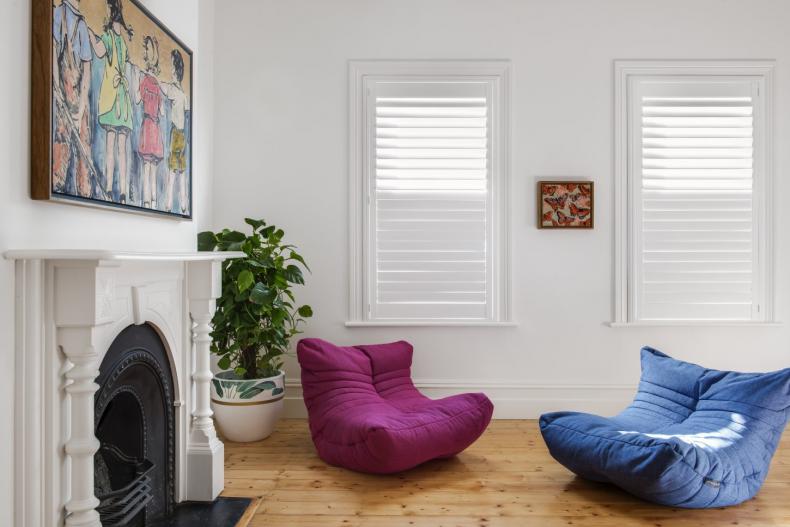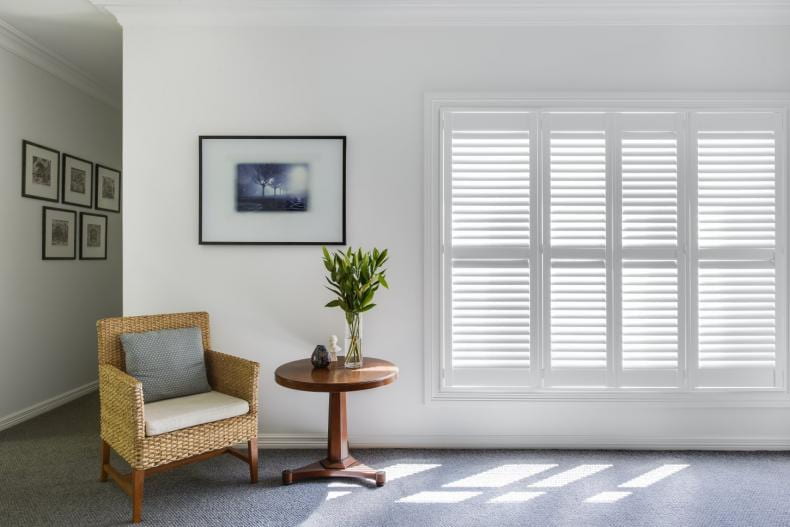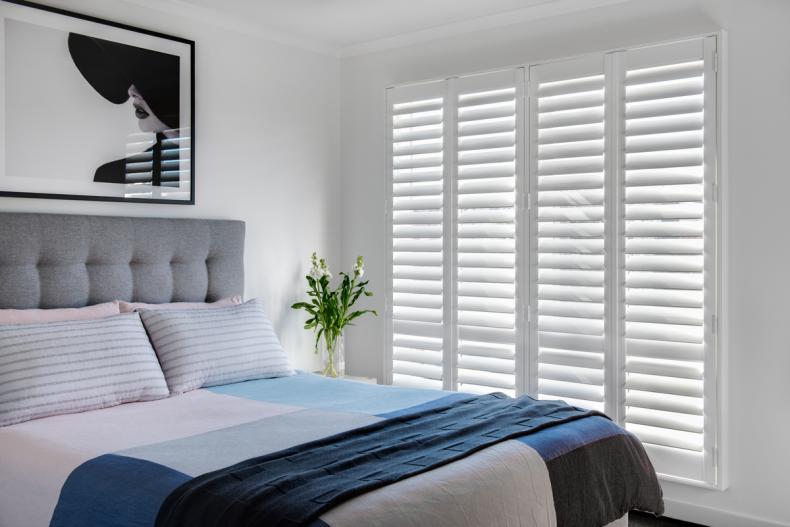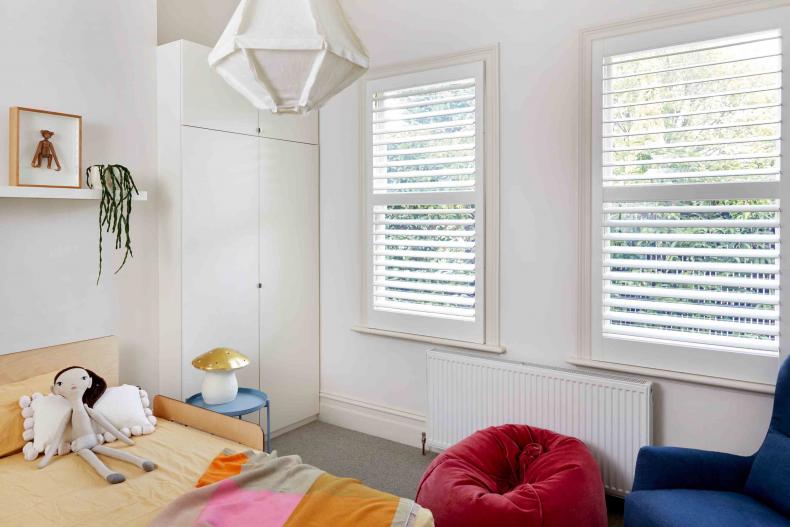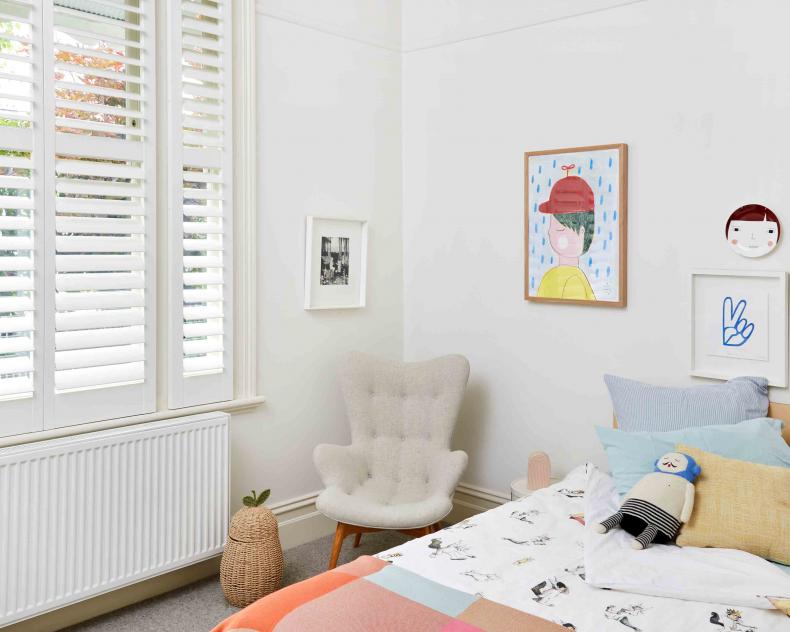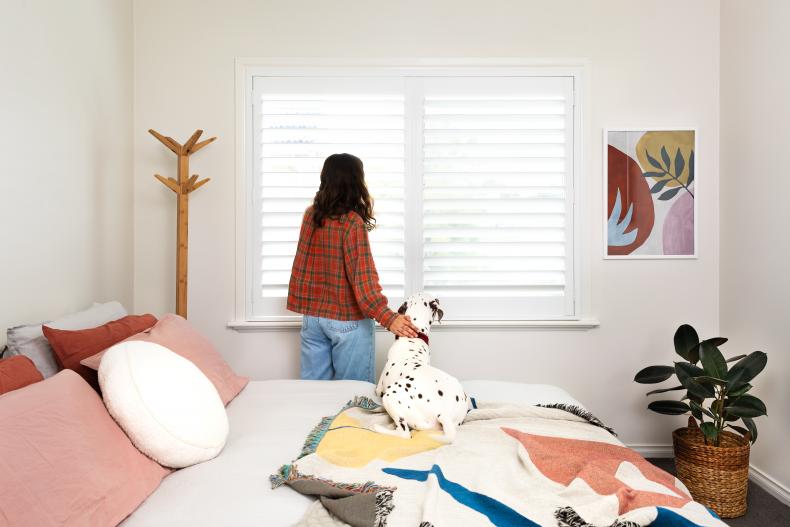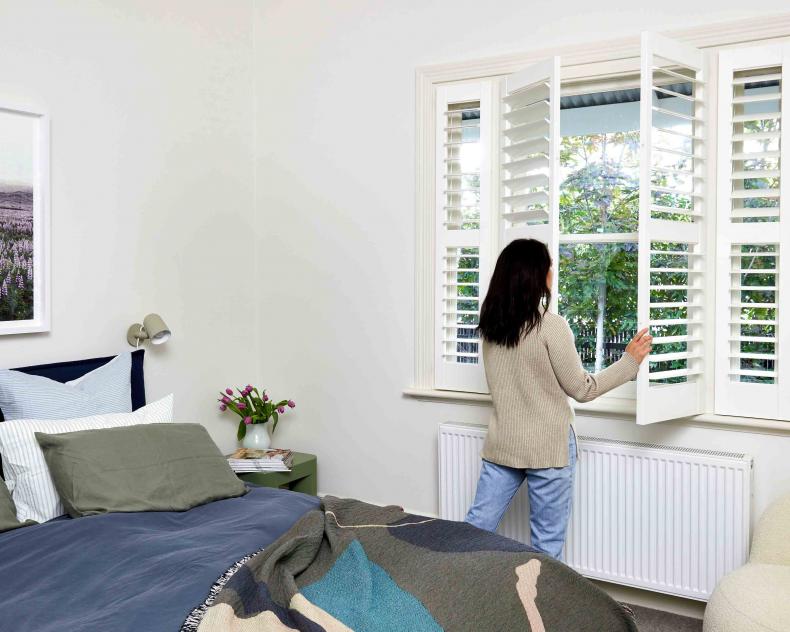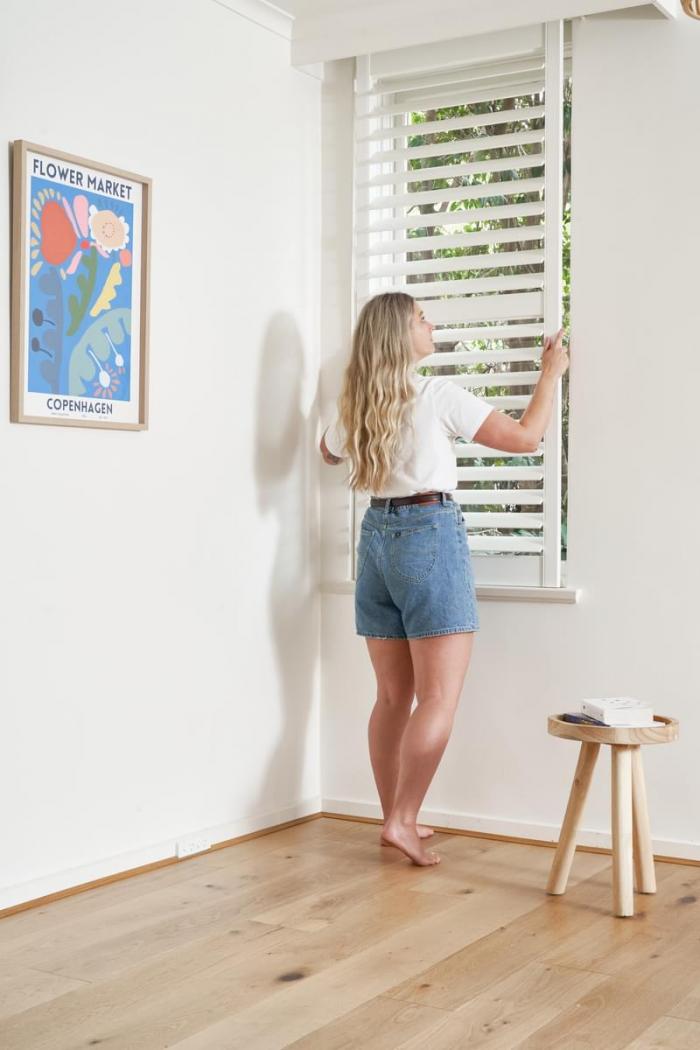 Personalised Customer Service
Every Step of the Way
Speak to our friendly team by phone or e-mail - we love to chat!
Use our Design Centre for expert recommendations
Choose to self-review your order or add an expert review to your cart for a phone to check all details of your order
Shutters delivered to your door. We ship all over Australia!
Easy install for the DIY novice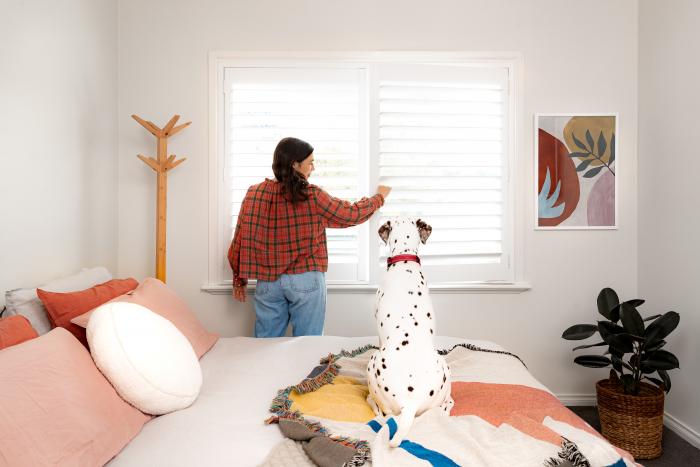 Customers Rave About Us
5 star reviews on product review because we aim to be the best
We take a lot of pride in our customer service, not just in finding the right fit for your windows but also in our after-sales all the way to installation. This commitment to our customers has earned us a reputation which we are very proud!
We'll guide and support you through all the simple questions to provide you with an expert recommendation for each of your windows. Your cost savings on plantation shutters will continue to add up the more shutters you complete!

Frequently asked questions
What are The Shutters Department shutters made of?
Our plantation shutters are made from aluminium reinforced PVC, a durable, tough and water-resistant material that is suitable for anywhere within the interior of your home - from wet areas like kitchens and bathrooms to the most sun-drenched of front windows. The PVC brings durability, while the aluminium core offers strength and prevents bowing. This combination of materials is not just ideal for general weathering, it also gives your plantation shutters the greatest chance of standing up to inevitable wear and tear - even from kids and pets! Please note that our plantation shutters are not for exterior use. 
What colours do The Shutters Department shutters come in?
We offer our plantation shutters in three beautiful shades of white, enabling them to seamlessly match with any interior decor or colour scheme, and helping them to reflect away as much of the sun's heat as possible, keeping your home cooler. The crispest, coolest and 'whitest' of these colours is called Snow, while the warmest, 'beigest' colour is Classic. The third option, Bright, sits between the others in terms of brightness and temperature. To help you perfectly match your plantation shutters with your home's interior, we've compared our three colour options to Australia's most popular white paints from Dulux, Wattyl and Haimes. Click here to see our colour chart.
What are the framing options for The Shutters Department shutters?
While there are some exceptions, almost all plantation shutters will need to be installed within a frame. For your convenience, all of The Shutters Department shutters are sold with a frame. We have three types to choose from, all of which are manufactured to fit the size and style of your window. If you need an inside mount (sometimes called a recess fit) you can choose between a Z frame or an L frame. Outside mounted shutters (face fit) will use an L frame. To learn more about which frame you'll need to correctly install your plantation shutters, click here.
How do I install plantation shutters?
No matter which frame and shutter combination you choose, installation is surprisingly easy. Why pay a tradesman for something you can easily do yourself? The Shutters Department has detailed, easy to follow guides that will allow you to install your new plantation shutters in no time! You can check out our guides here.
We ship our plantation shutters to almost every corner of Australia! No matter where your home may be, we're confident that we can safely deliver your beautiful new shutters in quick time. Simply enter your postcode at checkout, and the shipping fee will be calculated based on the size of your order and your location!
How much will delivery cost?
We don't make margin on shipping - we directly pass on the cost charged by our delivery partners. Shipping cost varies based on the size of your order and delivery location.
For reference, an average sized order of 6 square metres (which is generally between 4 and 8 panels) costs around $140 to delivery to metro Melbourne, Sydney or Brisbane. Pricing is not linear - doubling the size of an order does not double the cost.
Delivery can be calculated in Your Windows, after your first shutter design has been completed. If you'd like an estimate before you get there, just get in touch!
How long will my order take?
Imported Shutters: Your plantation shutters typically take 9-12 weeks to be delivered from the date you confirm your order. Orders placed after 8th January will experience a three week delay due to Chinese New Year closures.

Aussie Made Shutters: Our Aussie Made shutters are dispatched in 20 business days.
I'm nervous about ordering online. What happens if I make a mistake?
Helping you order correctly is our number one priority - we've quite literally designed our business to make it easy.
Our online design centre gives you specific measuring instructions tailored to your windows. We've invested heavily in video, diagrams and photography to guide you every step of the way. Most importantly, we're always here to help. Unsure? Send us photos, give us a call, or reach out via chat. We'll do everything we can to help.
Finally, nothing gets sent to our factory until we've personally spoken with you. We'll run through your order and double check all the details.
Why are you so much cheaper than other suppliers?
The Shutters Dept. can offer a market leading prices for two reasons. First, we help you measure and install your own shutters. Traditional retailers charge for this. Currently, the market rate is $100 to measure and $50 per panel for installation. Second, we import directly from the manufacturer - no intermediaries, no wholesalers. Your shutters are shipped from our factory and delivered directly to your door.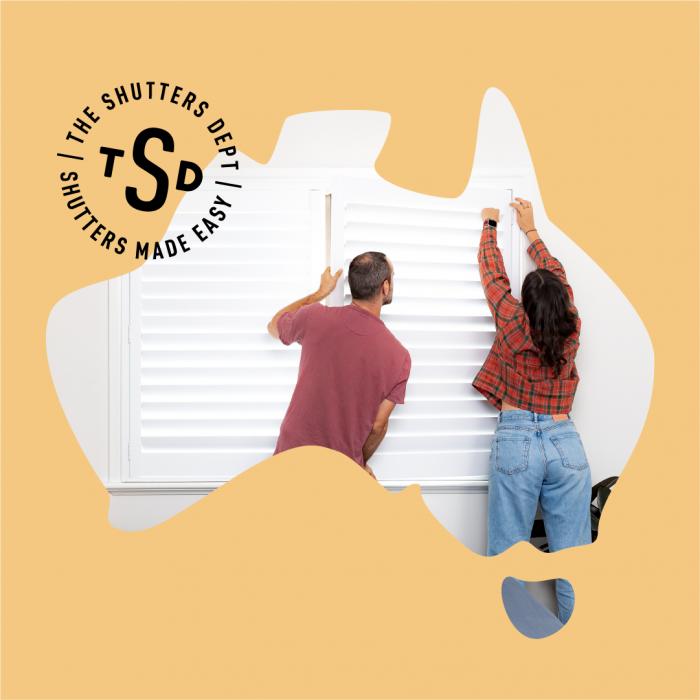 NEW! AUSSIE MADE PLANTATION SHUTTERS
Made in Melbourne
Quality Locally Made Plantation Shutters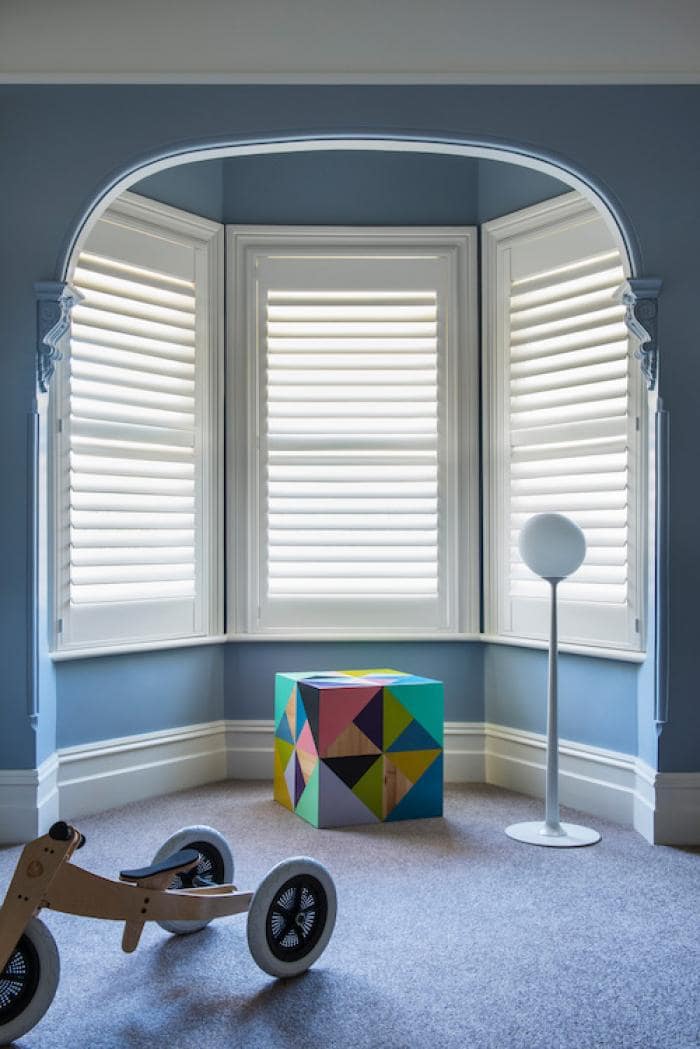 Corner Or Bay Windows? We Do Them!
Are you looking to add plantation shutters to a Bay Window or a Corner window for your home? That's something we can help you with! We've broken down the measuring process and made it straightforward to DIY. Check out our help articles about measuring and designing shutters for corner and bay windows:
Still confused? Just get in touch with us via email with a photo of your window and we'll guide you through the process.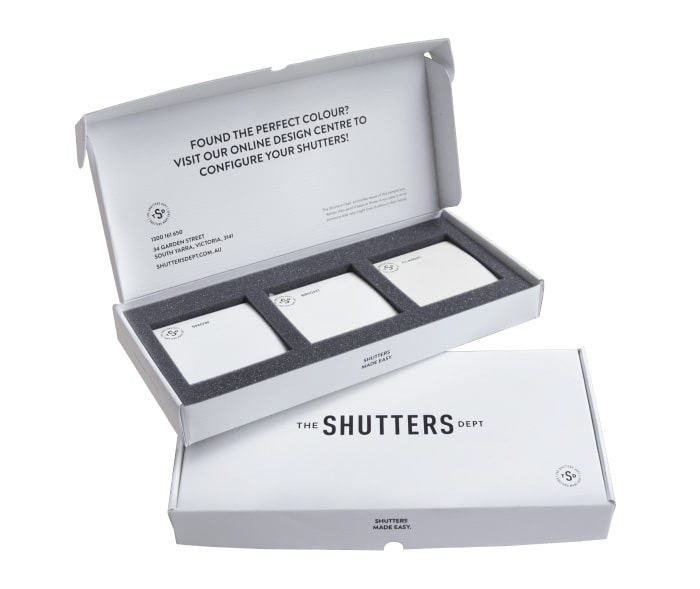 Request A Sample Today
Receive a sample of each of our three shutter colours and frame types to see exactly how they look in your home.
You can order a free sample after going through our Design Process and selecting the colour of your plantation shutter.